A good Change Management Plan can support and ensure smooth organizational transitions and calm anxiety that typically comes up with change.
During times of volatility, as we saw this past year, leaders of organizations have been exploring ways to navigate change and complexity for workers adapting to remote, hybrid, and onsite work environments. Training is playing a critical role, as well as supporting documentation (job aids, awareness programs, communications, policies, and procedures, etc.). Here's a look at how you can put this practice to work.
Create a Change Management Strategy
When companies go through a significant change (either planned or externally driven, such as complying with a new regulation, organizational restructuring, acquisition, or system implementation) it is crucial that program sponsors and organizational leadership develop a Change Management strategy to provide support and ensure its success and adoption.
This typically involves a top-down approach to generate a positive acceptance to change, encourage the use of new products and processes, and get maximum engagement from all involved. This does not happen with one interaction or announcement, but rather, requires a variety of interactions and ongoing communications over time.
For illustration purposes, let's say your company is planning to roll out an enterprise-wide remote work strategy. The initial announcement arrives as an email with an embedded video of your CEO explaining the importance of transitioning to a remote work environment. This may be followed up a few days later by a workshop with your department manager presenting the reasons why remote work is so important and the benefits to you and your colleagues.
You may then be required to complete online training sessions for your specific position outlining the equipment and software that will be needed, what is expected of you and other employees working remotely, including work hours, dress code, modes of communication, how you will be managed, how your productivity will be assessed, etc. Job aids such as quick reference cards, FAQs, and where to go for additional information are typically sent out to employees and round out a holistic documentation + training approach to Change Management.
What Does a Change Management Process Look Like?
The main steps are to identify the various audiences that will be impacted by the change, create goals relevant for each audience, and develop the strategy and tools to ensure a smooth transition and adoption. Training and documentation are an integral part of changing performance. Creating change requires a clear message that is communicated in an organized and consistent manner throughout the firm.
Pre-implementation communication should be varied and frequent. Examples of communication vehicles may include: an explanation of the vision behind the change; engaging employees so that they feel they are an important part of the change; creating a centralized intranet site containing resources and tools related to the change; tutorials and demos; games, and so forth. Designing appealing, eye-catching pieces will help to emphasize the importance of the change and draw employees' attention. Making it fun and playful can also help ease stress and adversity to change.
During implementation, training should be focused on helping employees learn the skills they will need to meet any new job requirements. Keep in mind that training is not a one-and-done event and should occur multiple times in different modalities to ensure that all learners engage with the content. For example, the initial training may be with a larger audience in a classroom/workshop setting (whether online or in person, as needed to ensure safety), while subsequent training sessions may be in smaller groups or individual online, asynchronous, self-study or even mobile on-the-job segments. Reinforcement should be built in and deliverable in a variety of different platforms to offer as many opportunities for learner engagement.
An Integrated Approach Will Increase Effectiveness
Ensure that your message is delivered via a close linkage between documentation and training to provide performance support at the moment of need.
Using an integrated approach ensures:
Consistent communication and reinforcement of key messages
Documentation that does more than sit in a static repository waiting to be read
Impactful training that is more than a one-time event
Effective transfer of knowledge to on-the-job performance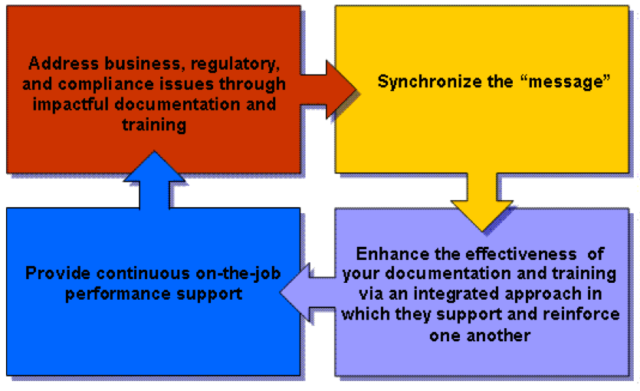 Simplicity is King
Successful Change Management relies on clear and simple communication and training to achieve buy-in from everyone impacted by the change. It should be carefully planned and communicated, including the tangible benefits that the change will produce.

Developing a well-thought-out strategy and roadmap for managing anticipated challenges is the linchpin to smooth transformation and adoption. Ongoing support must be provided to ensure continued success ̶ since Change Management is a process, not a one-and-done event.

Published on February 11th, 2021